Description
Pay attention!
From 1 July 2021, the sales prices excluding VAT will be shown on our website. Due to the new legislation, we must from 1 July 2021, calculate te VAT of the country from which the order is placed. As soon as you enter your address details, the VAT calculated from the country you ordered from.
YKK zipper can be worn on the front as well as the back. YKK zipper closes from the bottom to the top.
Sleeping bag aqua, olive green and with stripe and polkadot trimmed with off-white bias binding.
The YKK zipper of this summer sleeping bag can be worn on the front by both MCG-children and young adults. For children and young adults that undress themselves and mess, the sleeping bag with the YKK zipper can be worn on the back. Warning! These sleeping bags are not anti-rip sleeping bags. The sleeping bag with YKK zipper on the back makes undressing more difficult. The YKK zipper fastens from the bottom to the top. There is a small flap of material over the zipper (attached with Velcro) that makes opening it more difficult and prevents irritation in the neck and throat.
Summer sleeping bag with sleeve.  Zipper on the front or back.
Keep in mind the 5% shrinkage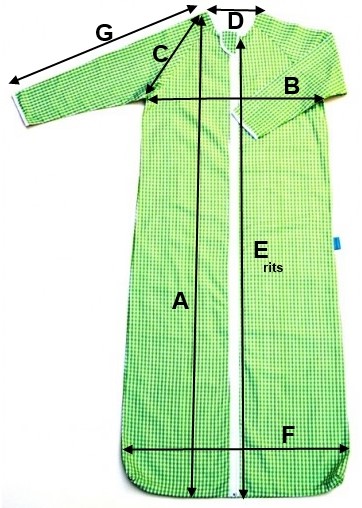 | | | | | | |
| --- | --- | --- | --- | --- | --- |
| Size (cm) | 120 | 140 | 160 | 180 | 200 |
| A | 120 | 140 | 160 | 180 | 200 |
| B | 48 | 55 | 60 | 65 | 70 |
| C | 29 | 31 | 34 | 37 | 40 |
| D | 14 | 14 | 15 | 15 | 16 |
| E (zipper) | 115 | 135 | 155 | 175 | 190 |
| F | 58 | 65 | 70 | 75 | 80 |
| G | 56 | 63 | 68 | 74 | 81 |