Description
Pay attention!
From 1 July 2021, the sales prices excluding VAT will be shown on our website. Due to the new legislation, we must from 1 July 2021, calculate te VAT of the country from which the order is placed. As soon as you enter your address details, the VAT calculated from the country you ordered from.
| | | | |
| --- | --- | --- | --- |
| Sizes Wheelchair cape for adults and children | Small | Medium | Large |
| Total length (from the shoulder to the bottom of the elastic) | 140cm | 150cm | 160cm |
| Breadth at chest hight | 100cm | 110cm | 120cm |
At HappyRainyDays, we've been looking for the ideal composition of cheerful materials for a long time. The material had to satisfy the demand for 100% watertight and still well breathing clothes. In addition it had to be nice and comfy. With HappyRainyDays you can face any (long lasting) rainshower without the inside of the clothes getting moist because of perspiration.
Outside material use of all rain clothes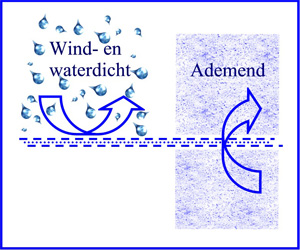 The outside of the rain clothes are made of 100% nylon (next to breathing, it is also not as bad for the environment as a jacket from pvc) and the inside is coated, which guarantees that the clothes stay watertight. Because of this coating the material is also windproof, to counteract cooling down, and well breathing to prevent an accumulation of warmth. Technically the coat has a value of 5000/5000, which means the material can withstand pressures of 5000 mm of water – absolutely watertight – and hydraulic conductivity of 5000 gram/m2/24hours of water vapour – extremely good breathing -.
How does that work, watertight material that still breathes?
Perspiration vapour evaporates (that's what it's for, to cool down) and is then present as water vapour under one's coat. Water vapour is a gas. In gas, all molecules are separate from each other. These can leave the jacket through its pores molecule by molecule.
Rain gets on the coat as waterdrops, so as a liquid. Molecules in a liquid stick to each other. Even when a drop splatter, a lot of molecules still stick together. While sticking together these molecules can't get through the pores of the coat.
Thus, the coat is watertight but not water vapour tight, that is it's watertight against rain and still breathes.
If it rains, a reaction takes place where the coating at the back of the material contracts, which closes off holes. Because of this bubbles can arise in the material. When it stops raining, the coating 'relaxes' again and the bubbles disappear.
Taped seams of the rain clothes
All seams are taped. That means that all seams at the back have an 'adhesive strip' WHERE ID = which makes it impossible for water to leak through the seams.
In short: this means that you can easily walk in long lasting rain showers and go for long bike rides with HappyRainyDays.