Description
Pay attention!
From 1 July 2021, the sales prices excluding VAT will be shown on our website. Due to the new legislation, we must from 1 July 2021, calculate te VAT of the country from which the order is placed. As soon as you enter your address details, the VAT calculated from the country you ordered from.
Black/fuchsia, gray/black, marine/gray and purple/gray are only available in 176 and 188.
Because of the lycra the model keeps its shape stretches when worn.
The romper suit can be fastened through plastic snaps.
The t-shirt can be worn over trousers. Ideal for in summer, you don't need to wear a romper suit under the t-shirt. The bottom is attached to the t-shirt at navel height.
Size table
Keep in mind the 5% shrinkage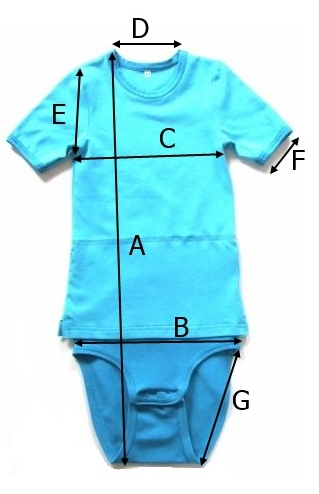 | | | | | | | | |
| --- | --- | --- | --- | --- | --- | --- | --- |
| Size | A  | B | C | D  | E  | F  | G  |
| 116  | 63 | 25 | 25 | 11 | 14 | 8,5 | 17 |
| 128  | 67 | 27 | 26 | 11 | 15 | 8,5 | 18 |
| 140  | 71 | 30 | 29 | 11 | 16 | 10 | 18 |
| 152  | 75 | 33 | 32 | 12 | 17 | 11 | 20 |
| 164  | 79 | 36 | 35 | 13 | 19 | 11 | 21 |
| 176  | 84 | 40 | 38 | 13 | 21 | 11 | 21 |
| 188  | 88 | 43 | 40,5 | 13 | 23 | 13 | 22 |