Description
Sizes: 1.20, 1.40, 1.60, 1.80 en 2.00 (measured from the shoulder) with sleeves
YKK zipper can be worn on the front as well as the back. YKK zipper closes from the bottom to the top.
TOG-value: 2,5 suitable in the winter, summer and fall for a room temperature between 16-20 degrees.
The YKK zipper of this summer sleeping bag can be worn on the front by both MCG-children and young adults. For children and young adults that undress themselves and mess, the sleeping bag with the YKK zipper can be worn on the back. Warning! These sleeping bags are not anti-rip sleeping bags. The sleeping bag with YKK zipper on the back makes undressing more difficult. The YKK zipper fastens from the bottom to the top. There is a small flap of material over the zipper (attached with Velcro) that makes opening it more difficult and prevents irritation in the neck and throat.
What is a TOG-value?
TOG-value is an indicator for the degree of isolation of the fabric. The higher the TOG-value, the higher the warmth and isolation value of the material. TOG-values go from 0 to 4.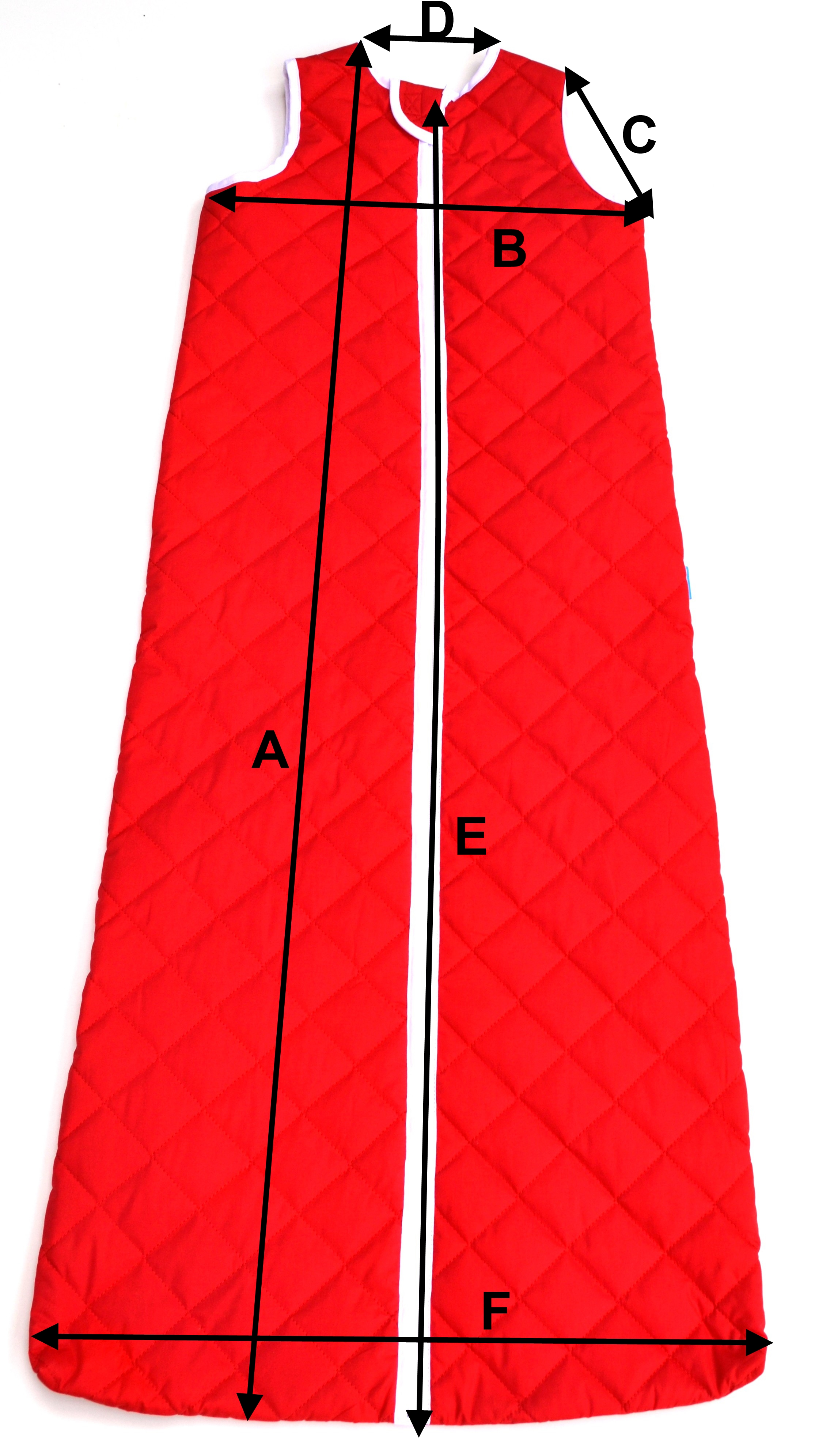 | | | | | | |
| --- | --- | --- | --- | --- | --- |
| Size sleepingbag (cm) | 120 | 140 | 160 | 180 | 200 |
| A | 120 | 140 | 160 | 180 | 200 |
| B | 46 | 50 | 55 | 60 | 64 |
| C | 17 | 20 | 23 | 25 | 26 |
| D | 14 | 15 | 15 | 15 | 16 |
| E (zipper) | 115 | 130 | 150 | 175 | 190 |
| F | 60 | 65 | 68 | 75 | 80 |